Wear these T-shirts proudly to declare your views, spark conversation, and a chance to educate the public.
Fidel / Infidel shirt debuts June 2005.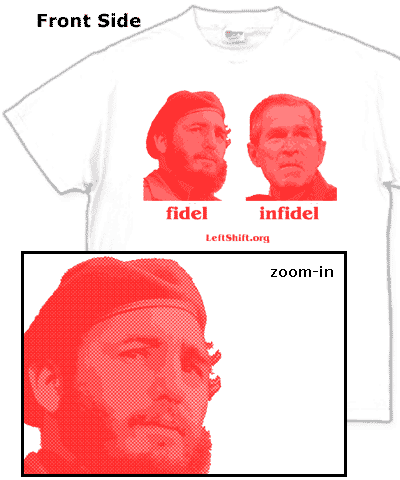 Text on back side reads: "Racism, racial discrimination and xenophobia are not natural, instinctive human reactions but are social, cultural and political phenomena born directly of war, military conquest, slavery and exploitation."
-- Fidel Castro Ruz
World Conference on Racism, 2001
Available Sizes and Colors:
Red on white: Small / Medium / Large / X-large
Red on grey: Medium / Large
---
Price: One T-shirt is $15. Two for $25.

Shipping & Handling: $5.00 first shirt, $1.00 each additional shirt
(when shipped to address within the USA)
Expect 2-3 weeks for delivery. Additional sizes may be available for custom order but may cost extra and take additional time.
For full details, email purchase@LeftShift.org or call Alex at (917) 279-9720